The Bastien Group was established in 2010 with the sole intention of providing excellent service to home sellers and buyers who are usually contemplating what turns out to be their biggest financial investments.
Matt Bastien
Matt Bastien became a licensed agent in 2006 and founded the Bastien Group in 2010. Having been a member of the REBGV Medallion Club (Top 10%) in both the individual and team capacity since his 2nd year in real estate, Matt knows the key to a successful business is making sure the clients best interests come first. Matt enjoys playing hockey, barbecues and hanging out with his wife Lisa, daughters Sarah and Isla, son Ben and elderly mix dog Dory. Matt grew up in Coquitlam and Port Moody and has been a Maple Ridge resident since 2014 with ties to the Mission area as well.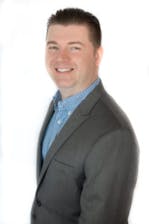 Rob Cooper
Rob Cooper has been a member of the Bastien Group since 2014. With an extensive background in construction, Rob loves creating a vision for clients when it comes to building, renovation or simply seeing what their future holds. Rob enjoys riding his bike along the dykes in Pitt Meadows, having beers at the breweries or spending time with his wife Sara and daughter Maya and their golden doodle Wilbur. Rob is a Maple Ridge resident originally from Glasgow, Scotland!
Jody Finnigan
Jody Finnigan is the administrative brainchild of the Bastien Group. Her top priority is ensuring that our clients are taken care in all aspects of the transaction and that we leave everyone with a wonderful lasting impression. She is truly our central concierge. From coordinating services, booking appointments and making sure the endless paperwork gets to where it goes, she is an integral part of the process. Jody grew up in the Mission area and is now a Port Coquitlam resident with her husband Brandon and their two Boston Terriers, Gus and Marty!
MEMBERSHIPS, AWARDS & CONTINUED EDUCATION
GREATER VANCOUVER REAL ESTATE BOARD:
Medallion Club Member (Top 10% in the Real Estate Board of Greater Vancouver, Individual) – 2018
Medallion Club Member (Top 10% in the Real Estate Board of Greater Vancouver, Individual) – 2017
Medallion Club Member (Top 10% in the Real Estate Board of Greater Vancouver, Individual) – 2016
President's Club Member (Top 1% in the Real Estate Board of Greater Vancouver, Individual) – 2015
Medallion Club Member (Top 10% in the Real Estate Board of Greater Vancouver, Individual) – 2014
Medallion Club Member (Top 10% in the Real Estate Board of Greater Vancouver, Individual) – 2013
Medallion Club Member (Top 10% in the Real Estate Board of Greater Vancouver, Individual) – 2012
Medallion Club Member (Top 10% in the Real Estate Board of Greater Vancouver, Individual) – 2011
Medallion Club Member (Top 10% in the Real Estate Board of Greater Vancouver, Team) – 2007 to 2010
KELLER WILLIAMS REALTY INTERNATIONAL (North America)
Keller Williams International (Global) – Platinum Medallion Winner (Team Category) – 2018
Keller Williams International (Global) – Platinum Medallion Winner (Team Category) – 2017
Platinum Medallion Winner, Keller Williams Internation (Team Category) – 2016
Platinum Medallion Winner, Keller Williams International (Team Category) – 2015
Double Gold Medallion Winner, Keller Williams International (Individual Category) – 2014
Gold Medallion Winner, Keller Williams International (Individual Category) – 2013
Canadian Cultural Ambassador, Keller Williams International – 2012
Gold Medallion Winner, Keller Williams International (Individual Category) – 2012
Silver Medallion Winner, Keller Williams International (Individual Category) – 2011
#3 Team for Keller Williams Canada (Overall Units Sold, Team Category) – 2010
#5 Team for Keller Williams Canada (Overall Team GCI, Team Category) – 2010
Platinum Medallion Winner, Keller Williams International (Team Category) – 2009
Platinum Medallion Winner, Keller Williams International (Team Category) – 2008
#1 in Sales for Keller Williams Canada (Overall Units Sold, Team Category) – Q1 of 2008
Top 5 Team, Keller Williams International (Overall Team GCI, Team Category) – 2008
Quadruple Gold Medallion Winner, Keller Williams International (Team Category) – 2007
KELLER WILLIAMS ELITE REALTY (Local):
Member of the Agent Leadership Council (ALC) – 2009 to 2013.
Member of Keller Williams Elite Realty Master Faculty of Instructors
Spirit Award Winner – 2011
Spirit Award Winner – 2012
Spirit Award Winner – 2013
Spirit Award Winner – 2014
Spirit Award Winner – 2015
Spirit Award Winner – 2016
Spirit Award Winner – 2017
CONTINUED EDUCATION
Market Valuation & Adjustments for REALTORS® – 2018 (REBGV)
Foreclosures and Court Ordered Sales – 2018 (REBGV)
Customer Service Excellence and the REALTOR® Brand- 2018 (REBGV)
Real Estate E&O Insurance Legal Update – 2018 (REBGV)
STOP – Selling Tenant Occupied Properties – 2018 (REBGV)
Seller Mastery (Keller Williams International) 2013
Agent Leadership Council Clinic (Keller Williams International) 2012 – 2013
Mega Agent RSTLM (Keller Williams International) 2014
RSTLM (Keller Williams International) 2013
RSTLM Lite (Keller Williams International) 2013
Condo 101 – Strata Law for Realtors 2012 (REBGV)
Legal Update 2011 -2018 (REBGV)
Designated Agency 2012 (REBGV)
Business Planning 2010 – 2014 (KW)
Train the Presenter (KW)
BOLD 2010 -2014(KW)
IGNITE 2012 (Lead Instructor, KWE)
IGNITE 2013 (Lead Instructor, KWE)
4-4-3 2007 (KW)
UBC Sauder School of Business Real Estate Licensing Trades – 2006